Brentwood is featuring amazing new rock pavers by Reading Rock that are sure to please every customer.
A recent client in Alexandria, Kentucky used these new pavers for a patio project in their backyard.
The client chose to use the Boardwalk paver, which comes in different shapes and shades.
The neat part about this project was the general shape of the patio was different, plus it featured a wall on one end of the patio and paver steps heading into the home.
The concept was incredible and it has really come together since the design phase.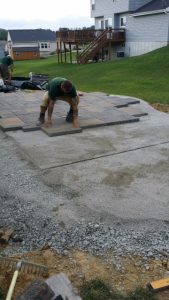 Each paver was hand-placed on the crushed rock base, which allowed us to manipulate the color scheme of the patio. We could create a flow with the similar colors of the pavers as well as establish a pattern with the pavers.
The outline of the patio is taking shape in this picture. The unique curves of the space gave us the opportunity to get a little creative with the design of the project.
You can also see the differing colors in the pavers. There are lighter segments in the varying sizes of the rock.
Consider it a giant puzzle where each puzzle piece is extremely heavy. It is a lot of hard work, but the end result will be absolutely worth it when it completely transforms the client's back yard.
This wider picture of the project depicts the unique shape of the project really well. It also shows the wall on one end of the patio and the stone stairwell leading into the home.
It is such a great design that has outstanding potential. From a design aspect, one of our favorite aspects of this patio is how the it rises up out of the yard in the foreground. It is almost flush on the right side of the photo above, and then as it wraps around on the side farthest from the home it rises up out of the yard with a stone retaining wall.
The common design is to have the patio flush throughout the yard, but this design fit the space perfectly and presented a beautiful look to the backyard.
The backyard of the home was slightly tapered downhill, so the topography presented us and the client with some design options. Planning for the future, and to avoid rain damage on the patio it was smart to raise it up instead of digging down, thus presenting the opportunity to create the subtle wall on the one side of the patio.
The project is nearly finished and we could not be happier with the way it turned out. We are eager to see how the client furnishes the space and utilizes the patio to entertain guests.
Do you want to add a stunning entertaining space to your property? Would a patio really take your summer gatherings to the next level? Let Brentwood Landscape and Design draft up a concept for a beautiful hardscape for your home; contact us today.