We recently wrapped up a beautiful project in Southgate, Kentucky. We installed a backyard patio for a client that incorporated a perfect sitting wall.
The subtle design of this project was simply perfect for the space and we were especially excited about the addition of the sitting wall.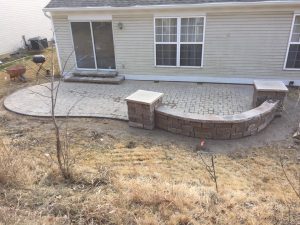 The patio design is simple but perfect for the property. The client chose to add two columns and a sitting wall which provides a separation from the yard and a nice place to relax.
The bulk of the project was obviously laying each individual paver on the patio as well as the steps and wall. We are so happy with the way it turned out.
The final steps for this project will be landscaping installation. This patio provides our client with a  beautiful entertaining space perfect for cook outs and family get togethers.
Spring is quickly approaching — would you like to add a patio to your property? Contact Brentwood Landscape & Design and let's get started designing the perfect project for your property and budget.