We have been hard at work building a beautiful backyard patio and pergola in Fort Thomas, Kentucky. The project is just about finished and we couldn't be happier with the way everything turned out!
The patio looks beautiful with its sitting wall and pillars. One of the best additions of this project was the sitting wall surrounding the entire patio. This adds a lot of space for additional seating other than patio furniture, which lends itself to entertaining very well.
RELATED: PATIO PROJECT 1 | 2
The patio is also surrounded by simple, yet perfect landscaping that accents the entire project.
The other aspect of this project was the great pergola the client wanted to add over the patio door.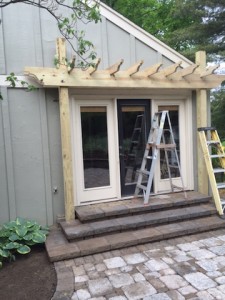 The pergola turned out great and will accentuate this entrance perfectly.
No backyard patio project is complete without the final touch of newly installed sod.
This backyard has been completely transformed into an entertaining oasis. It is so fulfilling to see a property transform…
From this:
To This:
Do you have a landscaping project that you want to design and have built? Contact Brentwood Landscape and Design today and let's get started on a site analysis and design. Your dream landscaping is one consultation away.