Landscaping season is in full swing and we have been very busy.
Our latest project involved creating two paver patios, tiered retaining walls, a set of natural stone steps and some beautiful landscaping. The project took us to Coot Court in Alexandria, Kentucky and we are very happy how it turned out.
The design included work in the front yard and the back yard. The backyard was relatively flat. The door had a small concrete slab, which was situated under the client's deck. The side yard was tapered and would definitely require some attention when it came to drainage.
After we quickly reviewed the property we go to work turning the landscaping design into a reality!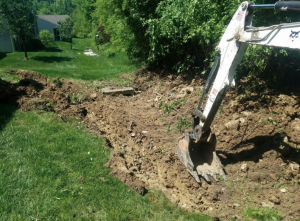 We started by digging out the property where our tiered retaining wall was going to go. Drainage was an issue with the property so we knew we had to incorporate a draining swale with the wall. The swale would help with control storm water and increase the amount of usable space the client would ultimately have.
Next up — the retaining wall. Block by block, our crew built the retaining wall and you can see the drainage pipe
The client is left with a beautiful versatile backyard.
We were also tasked with installing landscaping on the front of the house. The design called for another retaining wall so we used highland stone for those, and landscaping to increase curb appeal.
The wall was a subtle addition that we feel added a lot to the front of this home. Couple the hardscape with the addition of landscaping and mulch and this home looked outstanding after we installed the landscaping design.
We are so happy with the way this project turned out. If you would like help transforming your back yard or increasing your curb appeal, please contact Brentwood Landscape & Design for a consultation. We would love to help you with your landscaping project. Click here to contact us today! Happy landscaping.