Landscaping around a back yard pool is almost a must, right? You install a beautiful pool; it almost demands to be surrounded in equally amazing landscaping.
Our most recent project was a series of installations around a client's pool and it is sure to be the talk of the summer.
One of the more unique features of this project is the paver and turf patio our client chose to go pool-side.
The paver and turf patio looks a little incomplete during installation, but imagine manicured grass blanketing this paver patio. It adds an absolutely incredible look as well as a special "texture" to the yard.
Next to the paver and turf patio there is an existing patio, so this addition breaks things a little while still lending function to the space.
Also joining the paver and turf patio is simple landscaping to occupy the space remaining between the patio and the pool apron. These plants will flourish and look incredible.
The other larger project on this install is the retaining wall around the pool deck.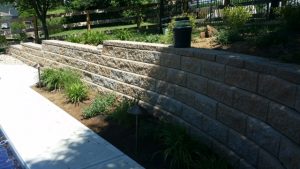 The wall is tiered and wraps around the apron of the pool. The stone the client chose is perfect for the project. As you can see, the base of the wall is fronted by more landscaping and pool lights.
The final item on this project was to hide the pool filter with landscaping. This is a common request, as industrial items like air conditioners and pool filters stand out when the rest of the space is designed with landscaping.
We are excited to see the final product for this landscaping project. We are sure this pool scene is going to be the social center point of this client's future get togethers.
Do you have a landscaping project that you would like to tackle? Contact Brentwood Landscaping and Design now and schedule a design consultation or a site analysis. Your dream yard is only an email away!