It has been busy for Brentwood Landscape in Northern Kentucky. The summer heat provided us with plenty of opportunities to design and build incredible landscaping for clients throughout NKY.
One of our latest projects took us to the beautiful city of Alexandria. We were tasked with landscaping the front of a home in an effort to increase curb appeal.
Let's dive in to this great project that turned out beautifully!
The home had a modest facade that offered a canvass with a lot of opportunity. The crew was excited to get started and get this property looking great!
This before shot shows how there was hardly a separating point between the grass of the yard and the bed in front of the home. This is very common with homes in the area. We wanted to create a distinct contrast by incorporating color and texture.
A small wall was installed on the side of the project to provide structure for the project and would eventually add beautiful height / dimension to the project!
The incorporation of height into projects like this is essential. As you can see our design incorporated some small trees, bushes and low lying plants of varying color, including small blooms.
The design also jutted out into the yar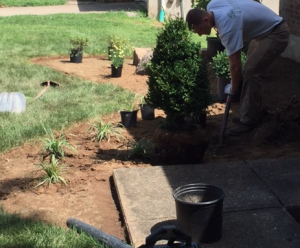 d with a wave-type look. We factored in the existing porch and added the wall that was pictured earlier, as well as the waves in the yard which added depth and height to the project.
Couple the logistic design of the project with the greenery and this project is really coming together!
Keep in mind all "axis" of the project when designing the landscaping. You can add height with land, height with the plants and depth with the design of the project. In this case, the waves we added to the beds provided great depth.
The final product turned out really well. It is incredible what some mulch, new plants and a simple wall can do for a home's curb appeal!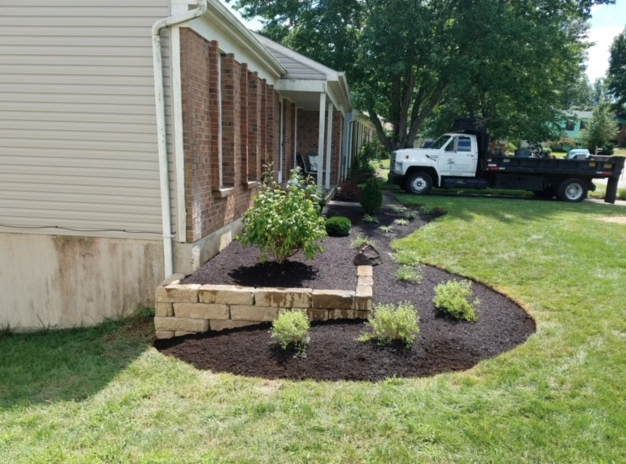 This angle really shows how much that simple wall brought to the project. It is beautiful, goes with the existing colors of the home, but contrasts great with the color of the mulch.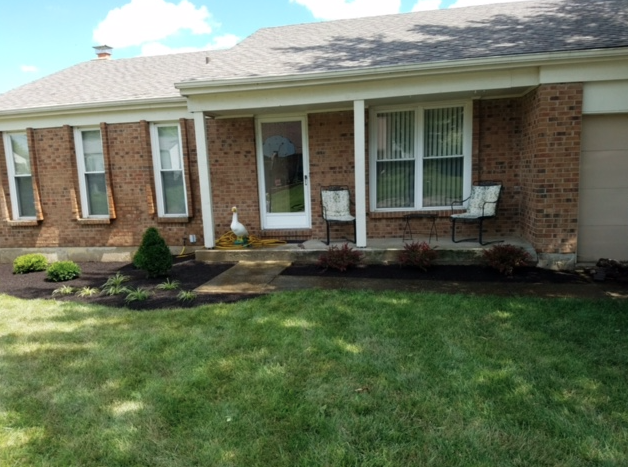 Now our client can sit on their porch, take in the rest of summer and enjoy their refreshing landscaping!
A simple project that had a great final impact. Until next time, Alexandria.
Would you like to pump up your curb appeal or do you have a landscaping project that you would like to cross off your list? Contact Brentwood Landscape and Design today and let's start designing the project of your dreams!