The warmer spring weather has provided us the opportunity to get back to building projects for our clients. The latest landscaping project we were tasked with creating was a new paver patio with stone steps leading up to a door surrounded by a new trellis.
This was an in depth project that we were excited to get started on as we welcomed spring back into our work schedule!
Step 1 of the project was to clear the space for the patio. As you can see, we utilized the help of a Bobcat, which made for quick and efficient work.
Once the area was excavated, we leveled the space and laid down gravel as a base layer.
In addition to the patio the step below the door is to be built out of stone and expanded. The client requested a more stylish and aesthetic entrance into the home. With the addition of the trellis around the door, the new steps and the patio we think their request will be more than met.
 The client's concept for the patio is to utilize multiple sizes of paver stone to create a unique shape. The patio will have a border stone around it as well as a built in fire pit.
This image is what we used as the concept for our client's design.
We decided to use a very similar paver in a subtly different color in our project.
The paver our client decided on for the project are pictured directly above. They will look outstanding with the existing color and architecture of the home.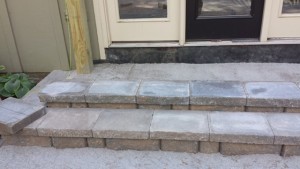 Once the land was leveled and the layer of gravel was put down we created the steps. We built them up and out using beautiful stone. Where there used to be a plain small step we built two steps the jut out further onto the patio. They added so much to the project.
Stay tuned for an update on this project as we complete the trellis and patio.
Interested in incorporating a similar project into your property? Contact us and let us get starting designing an incredible patio for you!