An exciting project we have been working hard on in Cold Spring is now complete.
You will remember we were working on a pool-side project that included a turf patio and landscape installation.
COLD SPRING POOL-SIDE PAVER, TURF PATIO INSTALL
The project had a lot of potential and we could not be happier with the final product!
Initially, the backyard looked like the picture above, but then we went to work!
We were tasked with installing a turf patio, which is bigger stone squares that are separated by patches of manicured grass. We also had to install landscaping around the apron on the pool. We also had to "hide" the pool pump with landscaping.
It was a fun project, and now the client's pool space looks better than ever!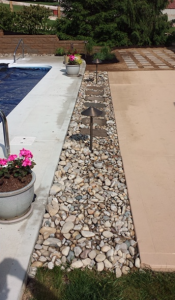 The client chose to follow the trend by incorporating stones into the landscaping. This looked outstanding and served as a subtle separation between the client's patio and pool apron. Adding landscape lighting to the stone area was a great touch!
As you can see the turf patio turned out really well. It is a different take on an entertaining space that fit the space absolutely seamlessly in this case.
The retaining wall, plants and mulch we installed surrounding the pool area brought layers and a bit of privacy to the backyard.
Our client was extremely happy with the way everything turned out. They now have a cool and refreshing entertaining space all their own.
Contact Brentwood Landscape and Design today and let us begin designing the perfect backyard landscaping project for you!