Is it officially summer? We have been so busy installing landscaping, all we are really sure of is that it's sunny and beautiful outside. It has to be summer, right?
Anyway, like I mentioned above, we have been busy at work. Our latest project took us the beautiful town of Cold Spring, Kentucky. We installed landscaping all over the client's property. We are really satisfied with how everything turned out.

We installed new mulch, tapered landscaping across the side yard of the home and continued the theme across the backyard.
Like we mentioned in our previous post, the incorporation of the white rocks as an accent apron around the beds is a big trend. The use of the rocks in this project looked outstanding and really brought a nice element to the project.
The project included these small retaining walls that tapered down a slight embankment. The light-colored natural stone was a great selection for this particular project.
We used a brown, wood chip mulch. Here is one of our hard working employees spreading it across the flower bed.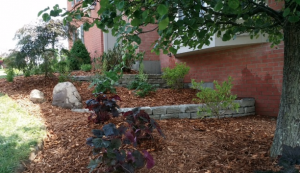 This is a good picture showing how we broke up the flow of the flower beds with the small retaining walls. This is a simple practice and it is a great way to add some character to the landscaping. With the incorporation of the right greenery, mulch and hardscapes this landscaping really transformed the property.
We installed a drainage system on the property. In the photo above you can see a deep trench being dug that wraps around the flower bed.
The image below shows the final product of the drainage system with all the final landscaping. It turned out beautiful and the best part is it is a functional design.
The landscaping wrapped around the home and into the back yard. The overall theme continued throughout with the white stone apron, brown wood chip mulch and stone walls.
By designing the curvature of the flower bed we create a natural flow around the house.
Here is another view of the drain with decorative gravel. This design works very well for storm water runoff control. It is beautiful and functional. It doesn't get any better than that!
Contact Brentwood today and let's design your landscaping project together.