The first stage of our entryway project in Independence, Kentucky is complete.
As you'll recall, we were asked to create better access to the client's front door from the driveway.
RELATED: New Entryway Adds Beauty, Accessibility to NKY Home
With the help of some beautiful pavers and a hardscape design, our client's front entry has never looked better.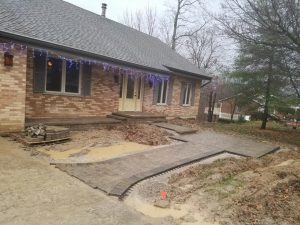 The above photo shows the new walk and entrance pad that was installed. To the left of the front door and running along the front of the house we installed a matching walk that goes between the front door and the garage.
Next steps will include grading the front lawn and installing flowerbeds for brand new landscaping.
We were really excited the way the front walk and pad turned out!
Here is a great shot of the client's new entry pad at the front door. We raised the pad to eliminate a step and possible trip hazard. You can get a good feel of the contrasting pavers from this shot. The larger stones around the outside and the pavers of varying size and color in the interior.
This was a great project to work on this time of year. It felt good to get out and finish a beautiful project that will really change the look of our client's home.
Next step is to design and landscape this front yard to send this home's curb appeal straight the stratosphere!
Would you like to add a similar project to your home? Contact Brentwood Landscape & Design today and let's get started designing your landscape or hardscape project!